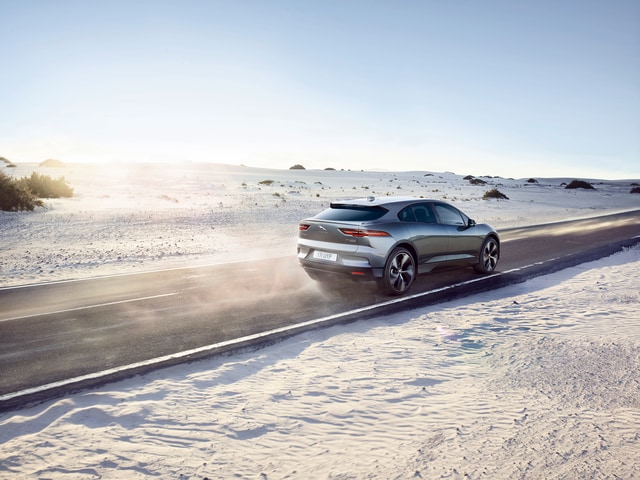 The all-new Jaguar I-PACE is bringing tasteful luxury and sporty power to the EV world, and if you're considering a brand new electric vehicle for your weekend adventures around Long Island and weekly work commute, there is plenty to explore in this electric Jaguar model. For drivers who are looking to go green while having advanced performance and luxury provided by the Jaguar brand, continue reading to learn about some of the phenomenal details and specs given to drivers by this unique electric vehicle and how you can get behind the steering wheel of your future Jaguar here at our dealership!
How Much Horsepower and Driving Distance Does the Jaguar I-PACE Provide
Whether you're running errands around Long Island, or taking the family to Manhattan for brunch, the new Jaguar I-PACE electric SUV holds a total driving range of 234 miles, and this EV reaches 0-60mph in 4.5 seconds with the high-energy-density 90 kWh battery and the two permanent magnet synchronous electric motors the generate 394-horsepower and 512 lb-ft of torque.
How Long Does it Take to Charge The Jaguar I-PACE?
This EV takes on charging like a champion and is capable of charging in the rain, sleet or snow. Look to an overnight charging time at your approved home domestic charging socket, and if you're on-the-go, the Jaguar I-PACE can achieve 0%-80% of battery life with an 85-minute charge at a public DC charging station.
Class & Luxury for the Jaguar I-PACE
Aside from the amazing power offered by this Jaguar electric vehicle, drivers have the legendary Jaguar comfort of luxury inside and out of this smart and innovative EV. Look to advanced multimedia and driving technology with features like Apple CarPlay and Android Auto, a head-up display, park assist, and lavish luxury seating for up to five!
Test Drive Your Preferred Jaguar I-PACE Today!
Our experts can't wait to show off our trim selection of the new Jaguar I-PACE, so stop by today and test drive one at our Jaguar dealership on Long Island. Call us to schedule your Jaguar EV appointment at (877)787.4981, and we'll get you behind the steering wheel as soon as possible!