Jaguar XF Sportbrake will change the way you think about a wagon
In a car world dominated by SUVs and sedans, the Jaguar XF Sportbrake offers something different. The Sportbrake is the wagon version of the XF sedan and brings a streamlined frame that gives it a sporty yet classy style.
The cargo area features a power tailgate and similar to the F-PACE, but the unique design gives you 31.7 cubic feet of storage. If you fold the rear seats down, that space increases to 69.7 cubic feet with no bumps or obstructions. Space is larger than what you will find in its closest competitors. The design of the wagon with its low center of gravity allows it to hug corners and handle like a sports car. So the Sportbrake offers the performance and handling you want with the convenience of added storage.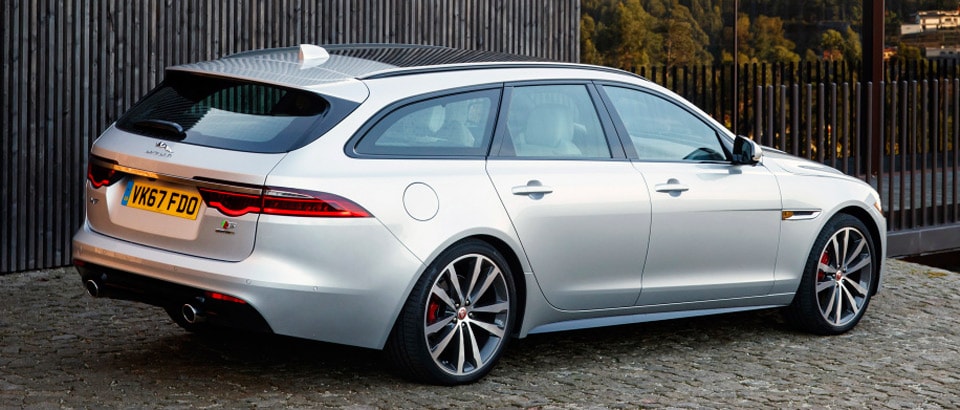 The handling comes with a lot of power under the hood. The Sportbrake has a 3.0-liter turbocharged six-cylinder with 360 horsepower. Even though it is heavier than the XF Sedan, the 332 pound-feet of torque allows it to accelerate quickly. It's a balanced vehicle with the acceleration you want and the ride quality to make it a great family ride.
The center console has a 10-inch touchscreen infotainment system, and there is a rear-panoramic sunroof your passengers will enjoy. Are you looking for even more technology? Leave your keys behind with the Sportbrake. The Jaguar activity key allows you to lock and unlock doors through a shockproof and waterproof wristband.
The Jaguar XF Sportbrake is much more than a people-hauler. It's a luxury vehicle that gives you the options to use it any way you want it.
*European Model Shown in Photos