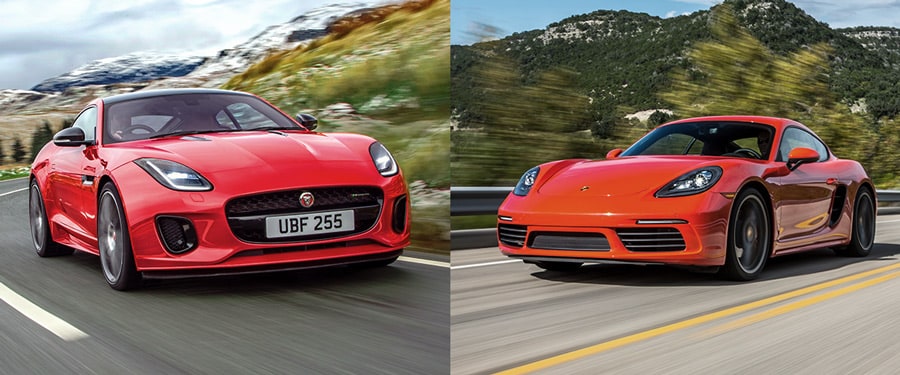 Jaguar vs. Porsche: Which Vehicle Should You Drive in Huntington?
Jaguar vehicles have a history of providing drivers with a memorable, powerful, sleek driving experience. Jaguar owners can attest to the feeling of control, confidence, and aggressive assurance whenever they slide behind the wheel. Here at Jaguar Huntington, our team works with incredible Jaguar vehicles every day, and we can speak to these vehicles' excellence as well.
How do you know, though, that a vehicle like the Jaguar F-TYPE is the best option for you, especially when compared to the competition?
In an effort to help our customers with their purchasing decisions, we compare our most popular models with their competitors. Not only does this help elucidate the differences between these models, it visualizes the ways in which one model may be superior to another.
With that said, how does the Jaguar F-TYPE compare to its competition, like the Porsche 718 Cayman?
Jaguar F-TYPE vs. Porsche 718 Cayman
The first thing to notice about these two vehicles is that the Jaguar F-TYPE is, far and away, more powerful. With 340 horsepower, 332 pound-feet torque it commands the road easily, and with authority. In comparison, the Porsche 718 Cayman only offers 300 horsepower, and 280 pound-feet of torque.
Power and torque are important on the road, as they are what provide the exhilarating experience Jaguar drivers love. With the rev of the engine, and the smooth handling, you are always confident on the road, assured of your power, and noticed by other drivers. These factors set you apart from the pack, and propel you forward.
In addition, the Jaguar F-TYPE offers an automatic, eight-speed transmission, whereas the Porsche 718 Cayman offers a manual six-speed transmission. The former option is more versatile, and more accessible, for a wide variety of drivers.
Additionally, the Jaguar F-TYPE offers you a better basic warranty. At five years, or 60,000 miles, it beats the competitor's offer of four years, or 50,000 miles. Further, the Jaguar F-TYPE comes with five years, or 60,000 miles of the roadside assistance program, whereas the competition offers the program for four years, or fifty thousand miles.
This means that if your vehicle has an issue, for whatever reason, you can utilize your warranty for a longer period of time with the Jaguar F-TYPE than you can with its competitor. Moreover, you will have roadside assistance longer than you would with the competition.
The bottom line is that, with the Jaguar F-TYPE, you can take advantage of more power, more torque, an automatic transmission, a better basic warranty, and longer time in the roadside assistance program.
Stop By Our Dealership Today
We know that your experience on the road is important. You are shopping for these kinds of powerful vehicles because you care about power, control, and style. We respect that, and we want to do everything we can to ensure you get a vehicle that will complement those needs, and satiate your desires.
If you would like to learn more about the Jaguar F-TYPE, or if you would like to find out how it can benefit you on the road, we invite you to visit us at Jaguar Huntington in Huntington, NY. Our team would be more than happy to assist you in finding an excellent automotive option for your needs on the road.
No matter if you prefer the Jaguar F-TYPE, or another Jaguar vehicle on our lot, our team would be happy to expound on the benefits each provides, while also answering any questions you may have.