NEW JAGUAR E-PACE OFFERS LEASE OFFERS ON LONG ISLAND
Explore the New Jaguar E-PACE Lease Offers in Huntington, NY
Jaguar Huntington wants to help enhance your future driving experiences with a newer, more exciting vehicle. That's why we are anxious to tell you more about the competitive lease offers for the bold and versatile new Jaguar E-PACE on Long Island. This peppy compact SUV contains innovative technology and engaging powertrain options that take driving to a whole new level. With these enticing E-PACE lease offers to save you money, it's simple to invest in your dream SUV.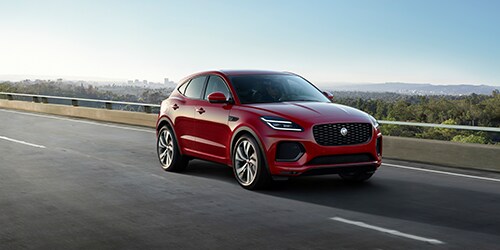 NEW 2022 JAGUAR E-PACE OFFERS
________________________________________
CHECK BACK SOON FOR JAGUAR E-PACE OFFERS.
Many Ways to Save on the New Jaguar E-PACE
Our goal at Jaguar Huntington is to make the vehicle-buying journey straightforward and enjoyable. We hope to achieve this goal by offering a wide range of incredible Jaguar E-PACE lease specials. From lower monthly lease payments to reduced APR financing for many months, there are many ways we hope to save you money. Additionally, we often update these discounts with better savings, so be sure to check back regularly to see new ways to lower the cost of your investment.
Financing Made Easy
Not only do we have fantastic E-PACE lease offers and specials to keep extra money in your possession, but we also have competitive financing and leasing options that align with your financial needs. Our experts in the Finance Center will make this part of the process quick and easy while applying any available discounts to your unique automotive deal. From start to finish, Jaguar Huntington will take care of you throughout the buying process.
Visit Jaguar Huntington Today
To get a better understanding of how enthralling the new Jaguar E-PACE is, come to our dealership to test drive this new model. While you're here, we can tell you more about the available E-PACE lease offers. We look forward to providing you with an outstanding automotive experience.