DESIGN
A true driver's car, the Jaguar XE redefines the concept of the sports sedan thanks to its advanced lightweight construction, streamlined styling, luxurious interior, and outstanding ride and handling. The XE goes on sale in 2016 in the U.S. The high-performance S model will be at the top of the line-up.
The long wheelbase and low seating position enable perfect proportions and a streamlined, coupe-like profile. The S model's large front air intakes, chrome side vents, discreet rear spoiler and optional 20-inch forged alloy wheels reinforce it's performance potential.
The cabin offers outstanding levels of comfort and spaciousness. Exquisite materials and finishes, combined with traditional Jaguar craftsmanship make this an interior without compare.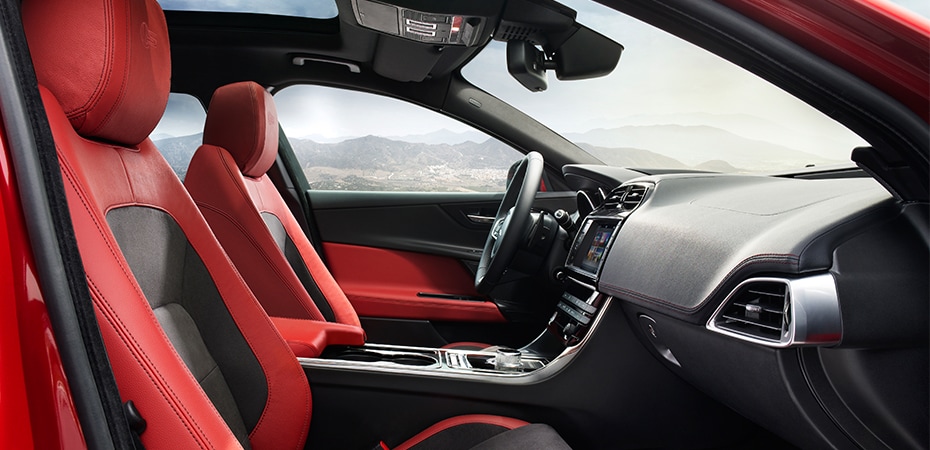 ALUMINUM ARCHITECTURE
Jaguar is highly experienced in the use of aluminum construction. That expertise in working with such lightweight material has culminated in the revolutionary body structure of the new XE. It is the first model designed around our all-new modular architecture and is the only car in its class to use an aluminum-intensive monocoque body. The lightweight, aerodynamic form of the Jaguar XE contributes to increased fuel efficiency and lower emissions.
The new Jaguar XE features a sophisticated double wishbone front suspension. The aluminum front spindles are light and stiff - forged from cast blanks using a patented production process while the rear suspension features an integral link system. This system delivers lateral and longitudinal stiffness for precise handling and a supple ride. Aluminum has been used extensively in the suspension, minimizing weight.